Edorable and Arthur Houston
Our grower Arthur Houston recently met with Edorable's Ben Whitehead to discuss waste fruit and to pick just a few raspberries.
Edorable is a new social enterprise (backed by UnLtd) that aims to create sustainable changes in order to help reduce food waste.  Deliciously healthy snacks are made using surplus produce.  Ben dehydrates the fruit to sell where a proportion of profits will be donated to charities tackling food poverty.
Both Arthur Houston and MKG were thrilled to support Ben's new enterprise and very much hope to see him during the apple season.
If you have surplus fruit or can provide an introduction to someone who does, please contact Ben at ben@edorable.org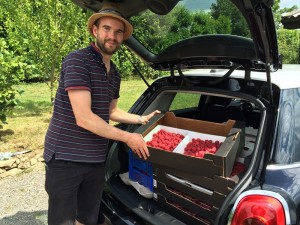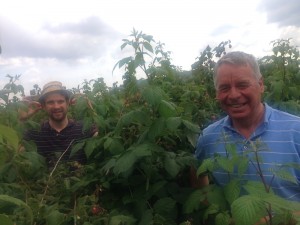 This entry was posted on Tuesday, August 11th, 2015 at 1:31 pm and is filed under news. You can follow any responses to this entry through the RSS 2.0 feed. Both comments and pings are currently closed.