The new season has begun!
Although we are still packing the last few Conference pears and Cameo apples from 2013, the trees from whence they sprung last autumn have now burst into blossom, presenting a fine sight to anyone who's heart isn't made of cement. Arguably, the Garden of England looks at its very best at blossom time, with row upon row of neat little trees proudly showing off their spring dresses. It doesn't last very long, however, as the open petals are shed in a few days, leaving tiny fruitlets in their place. There are loads and loads of these, but only a fraction will develop to grow into full-sized marketable apples and pears come August. Here are a few pictures showing three stages of flower development, starting with a pink bud and ending with pollinated fruitlets: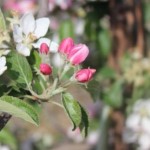 The tree at pink bud stage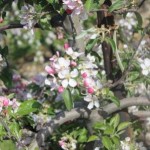 Full blossom stage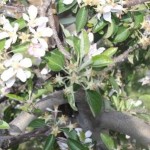 Early fruitlets
This entry was posted on Thursday, April 24th, 2014 at 4:30 pm and is filed under news. You can follow any responses to this entry through the RSS 2.0 feed. Both comments and pings are currently closed.